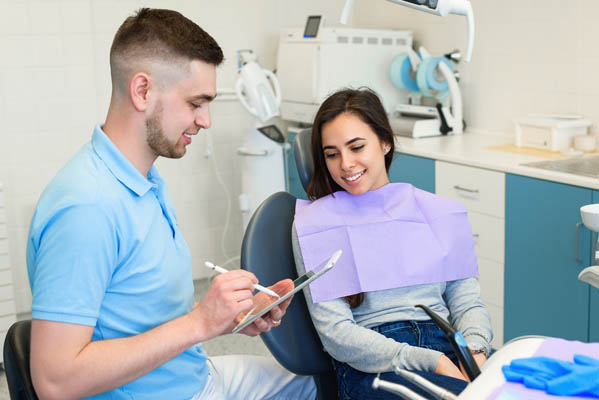 Everyone wants to keep their smile white and healthy for as long as possible, and a complete dental exam every six months is the best way to achieve this goal. You want to find a dentist you are comfortable with, establish a good relationship, and keep up with your oral health.
Many patients suffer from dental anxiety, which should not keep you from seeing your dentist. We all fear the unknown, and the more you go to the dentist, the more you will be used to the tools, procedures, and surroundings.
A routine visit to the dentist lasts no more than an hour, and you can easily schedule it around any other daily activities you have on your list.
X-rays
If you are an adult patient and go to the dentist regularly, you will have x-rays of your mouth taken once a year. Sometimes, if you are experiencing an issue, your dentist will request them more often.
A child could have multiple x-rays throughout the year because their mouths constantly change and shift.
Dental cleaning
Your dental hygienist will give you a thorough dental cleaning at the beginning of your complete dental exam. They will remove any tartar or plaque build-up, give you a professional floss and polish and protect your teeth with fluoride.
After a professional cleaning, your teeth will feel shiny and prettier than they have since your last visit. This is the best reason to want to see your dentist regularly.
Screening
During the dental examination, your dentist will look over your entire mouth. They will screen your teeth, tongue, and gums for any sign of oral cancer, gum disease, or tooth decay. Seeing your dentist every six months makes it easier for them to discover any of these issues in the beginning stages so they can be treated right away to prevent further damage.
Your dentist will also look at existing dental work, such as fillings, bridges, partial dentures, or treatment. You must be sure it is still working properly and doesn't need to be fixed or redone.
How much does a complete dental exam cost?
You can always call your dental insurance company and find out if you will be responsible for any out-of-pocket expense when having any dental procedure. Explain to them what you are scheduled for, and they will be able to inform you of the cost and your responsibility.
Talk to your dentist
The time you have with your dentist is the best time to ask any questions regarding your oral health. Your dentist wants you to be proactive in the health of your teeth and gums. They will offer you suggestions on how to brush or floss better. They will help you understand the importance of establishing a proper oral care routine. You and your dentist have the same goal. They want you to keep your natural teeth for as long as possible. They want to help keep you feeling confident in your smile.
Request an appointment here: https://cosmeticdentistsilverspring.com or call Lee Dentistry at (301) 605-1123 for an appointment in our Silver Spring office.
Check out what others are saying about our dental services on Yelp: Complete Health Dentistry in Silver Spring, MD.
---
Related Posts
December 8, 2020
A dental filling procedure is a common general dentistry treatment. Patients of all ages can benefit from this procedure as it is restorative, therapeutic, and very helpful when needing to address a tooth that is …