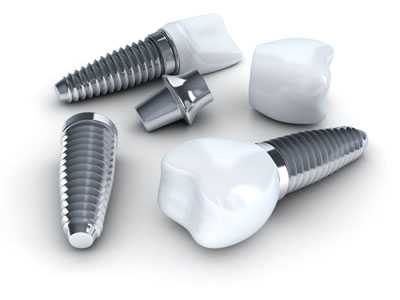 The All on Four method of dental implants is an outstanding option for anyone who needs their dentition restored. While other replacement options like dental bridges or dentures are also potential successes, the All on Four method, once completed, requires the least hassle and provides permanent results.
For the most functional prosthetic teeth, a quality dentist or oral surgeon will complete the All on Four procedure. The All on Four procedure, including the added restoration, can be completed in one day, unlike traditional dental implant treatments. Healing should occur following the procedure before any intense chewing can be performed on the new prosthetic teeth, but once healing is accomplished, your implant teeth will look, feel, and function just like your natural teeth.
All on Four
The All on Four technique uses four implants per arch to anchor sets of prosthetic teeth. Due to the angled placement of the implants, typically no bone graft will be needed for this procedure, unlike traditional dental implants. Your All on Four replacement teeth will look and feel like natural teeth, be permanent, and they should be brushed and flossed regularly. Your new teeth will not be removable, and they do not require adhesives to hold them in place. All on Four prosthetic teeth are more comfortable than other tooth replacement options. They won't put pressure on your gums or slide out of place constantly like dentures do. You will also be able to experience sensory responses in your teeth. All on Four is a fast, efficient, and attractive solution for missing teeth.
Criteria for All on Four
If you are a candidate for traditional dental implants, you will be a candidate for All on Four typically. Total edentulism (missing teeth) will be necessary for a successful All on Four procedure. If you are currently missing most of your teeth but not all, the remaining teeth will more than likely be removed. Fortunately, your new prosthetics will be more attractive and functional than what remaining teeth you have. If the majority of your teeth are remaining and healthy, you should consider a traditional implant instead. All on Four is an excellent option for people who currently wear full dentures.
Added Benefits of All on Four
With All on Four, your facial structure and muscle tone will be completely restored. You will look decades younger, feel more confident, and be able to eat the food you once loved. You may even become healthier since you will be able to consume much-needed nutrients without a problem. You won't have to worry about continued jawbone deterioration or an unattractive appearance, and your new teeth will be straight, white, and perfect.
To learn more about whether or not you are a candidate for the All on Four procedure, make an appointment with our Silver Spring office. We can provide you with a needed solution for multiple missing teeth that will better your quality of life permanently.
Cosmetic Dentist

>
Family Dentist
---
Related Posts
February 1, 2021
Suffering from a missing teeth? As uncommon as it may sound, a lot of people actually experience tooth loss at one point or another, whether it be a result of decay, accident or injury. Thankfully, …
---