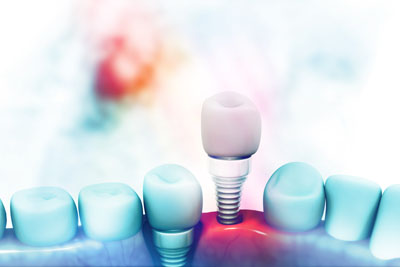 As a provider of implant dentistry, we understand how dental implants have revolutionized the process of replacing teeth. Whether you have lost one tooth or several teeth, we can provide you with a replacement solution that functions as well as your natural teeth do. While a solution such as dentures has been around longer and is still dependable, there are distinct drawbacks associated with removable prosthetics.
If you are unsure of how you want to replace your teeth, we encourage you to visit our office for a consultation so that we can conduct a physical examination, take X-rays and discuss the goals that you have for your smile. This information, along with your budgetary constraints and amount of time you have to commit, will impact our recommendations. In general, we recommend implants because they are the most natural solution. However, we know that they are not right for everyone.
Implants could be the best solution, if:
You want a smile that looks natural
To create the visible portion of the implant (crown), we take an impression of the patient's mouth, measurements and use a shade card. This information is sent to the dental lab so that they can create the new tooth to the exact specifications necessary to blend in with the surrounding teeth.
The results are so natural looking that the patient will not be able to tell which teeth are natural and which ones are implants. No one, other than a dentist, will know that the patient ever lost a tooth in the first place. This way, the patient can smile with confidence and without worrying about his or her teeth.
You want a hassle-free smile
Implant dentistry provides patients with the ability to take care of prosthetics just like they take care of natural teeth. Unlike dentures, implants are not removed, soaked, or cared for in any special way. All one needs to do is brush and floss like normal and receive regular dental care from our office. This will keep the entire mouth healthy without requiring the patient to buy any special solutions, pastes, etc. Implants are truly hassle-free.
You want a durable, new tooth
Replacement teeth have a bad reputation for coming loose or slipping out of place and with dentures, that is true. However, with dental implants, the patient will never have this problem. We complete the procedure by implanting a titanium rod under the gums and securing it to the jawbone.
Once in place, the metal and bone will fuse together through the process of osseointegration. This process is what makes an implant so strong. The jawbone provides stability to the implant and the implant provides stimulation to the jawbone, just like a natural tooth. Dental implants will require oral surgery and a couple of months to complete the process but will provide a permanent solution that does not fall out.
The implant will be as secure as a natural tooth which means that the patient can engage in high impact sports, eat your favorite foods, etc. The only thing that the patient will want to remember is to protect it just like other teeth.
To learn more or to find out if implant dentistry is right for you, call us at (301) 605-1123 and schedule a consultation.
---
Related Posts
August 9, 2022
The implant dentist you choose can have a major impact on your overall experience and the long-term results of your dental implant procedure. Every implant dentist has a unique process and a …
---