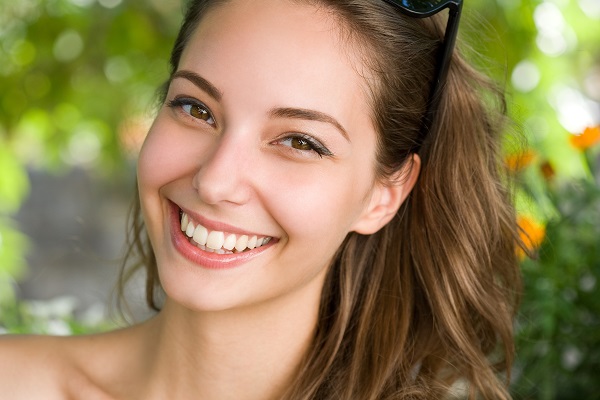 Years of drinking coffee and tea can cause unsightly, stained teeth. Many people are looking for easy and affordable ways to brighten up their smile by whitening their teeth. There are so many products on the market it can be hard to know what will actually work. Also, do you know which products are safe for your teeth?
Whitening pens are inexpensive and easy to use, but how do they work? Let's break it down.
What Are Teeth Whitening Pens?
Teeth whitening pens are small, compact tubes with a soft brush on the top. When you twist the bottom of the pen, a small amount of liquid seeps into the brush. Then you apply this liquid to your teeth.
They can be bought at a drug store, online and your dentist might even sell them. Typically, they are used twice daily — during your morning and evening oral hygiene routine. People like them because they are convenient, inexpensive and take less than one minute to apply.
How Do They Work?
Simply brushing some liquid or gel onto your teeth and having a brighter smile sounds ideal, but what are those whitening pens doing to your teeth? Teeth whitening pens work the same as any other over the country whitening system like trays or strips you stick to your teeth.
All these products use a mild solution containing peroxide, which allows oxygen to penetrate and lighten teeth enamel. With a teeth whitening pen, all you need to do apply, let it dry for about 30 seconds and get on with your day. You don't need to brush or rinse your teeth. The product will dissolve in your saliva.
Do They Work?
Many people have reported having a brighter smile after using teeth whitening pens. If used correctly, teeth whitening pens will give a subtle change to slightly stained, natural teeth. These pens typically do not work on crowns or veneers, are not suitable for people with braces and may not offer much help to people with severely stained teeth. They may be best suited for those with healthy, natural teeth who need a small touch up.
Are All Teeth Whitening Pens the Same?
There are many teeth whitening pens on the market. All claim they will give you sparkly white teeth, so which do you choose?
Typically, the only difference will be the concentration of peroxide in the whitening solution. Of course, stronger solutions may give you faster results, but they may also damage your enamel. Be careful when whitening your teeth at home. Research the product, and ask your dentist if in doubt.
Are There Any Alternatives to Teeth Whitening Pens?
There are many options for getting a whiter smile. You can opt for at-home kits or in-office treatments at a dental clinic. Dental offices can offer treatments with faster, more dramatic results, like laser whitening. Some treatments only require one visit to the dentist, whereas others might require a couple of trips.
Are you considering teeth whitening in the Silver Spring area? Get more teeth whitening information at https://cosmeticdentistsilverspring.com.
Check out what others are saying about our services on Yelp: Read our Yelp reviews.
---
Related Posts
November 14, 2022
Cosmetic dentists are primarily concerned with the appearance of their patients' smiles. However, their services also help repair the oral health and function of teeth. This review goes over the services commonly …