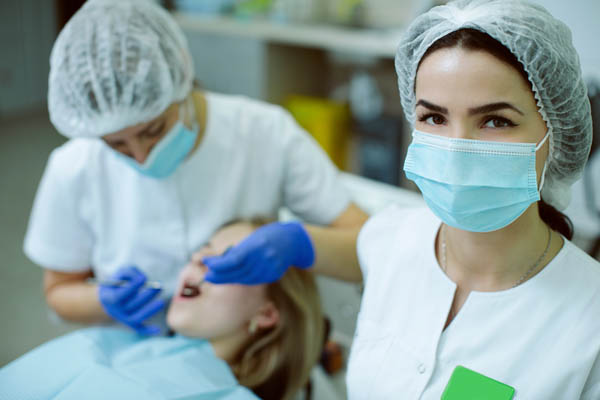 A restorative dentist is concerned with dental procedures that provide pain relief and the restoration of oral function in patients suffering from dental problems. Restorative dentistry treatments are becoming more popular due to their ability to mimic the natural look of your teeth. The goal is to restore normal functions and give you a smile you can proudly show off.
When should I see a restorative dentist?
The following are instances where patients will need to consider seeing a restorative dentist:
Replace missing teeth
Implants, bridges, and dentures are all options for replacing lost teeth in restorative dentistry. When a patient has only one missing tooth replaced, a dental implant restoration is a great choice. A dental implant is a sturdy replacement tooth root used to provide a permanent foundation for replacement teeth. The implant is placed by drilling into the jawbone and screwing the implant directly into it.
The restorative dentist can place the replacement tooth once the bone around the implant has healed and integrated with it. Bridges are metal frames with prosthetic teeth connected to them, and they are an excellent choice when multiple teeth need to be replaced. The frame is secured to the supporting teeth, which might be natural teeth or implants. Dentures can also be used when several teeth are missing.
Repair chipped or broken teeth
A crown is an excellent restoration treatment for patients who have a damaged tooth. A crown is a tooth-shaped covering placed over a broken tooth to enhance its look and make it functional. Crowns are made by taking an impression of the damaged tooth; the impression is sent to a dental lab, which uses it to create a permanent crown that fits snugly over the tooth that needs to be restored. The crown will be glued to the tooth once it is ready.
Fill a decayed tooth
Patients will require restorative dentistry treatment like a filling if they have a tooth that has been affected by decay. A filling is a procedure that involves removing decaying material, cleaning the tooth cavity, and then filling it. Composite resin, amalgam, gold, and porcelain are common filling materials. Patients can stop the decay from worsening into a tooth infection by getting a filling from a restorative dentist.
Restore a tooth after a root canal
When someone suffers severe tooth decay or infection, they may require a root canal, which is a procedure that preserves or repairs a decaying or diseased tooth by removing the infected portion. A root canal, like a filling, requires the infection to be removed first, followed by the filling. The tooth that had a root canal is usually vulnerable. As a result, crowns are frequently used to protect the tooth.
In conclusion
A consultation with a restorative dentist can help you know which dental procedures can restore your smile's function and appearance. Contact our dental office today to schedule an appointment.
Request an appointment here: https://cosmeticdentistsilverspring.com or call Lee Dentistry at (301) 605-1123 for an appointment in our Silver Spring office.
Check out what others are saying about our dental services on Yelp: Restorative Dentist in Silver Spring, MD.
---
Related Posts
November 1, 2022
A restorative dentist can help to repair and rebuild structures in your mouth that oral problems have damaged. These dentists focus on restoring the function of damaged or lost teeth, improving your …