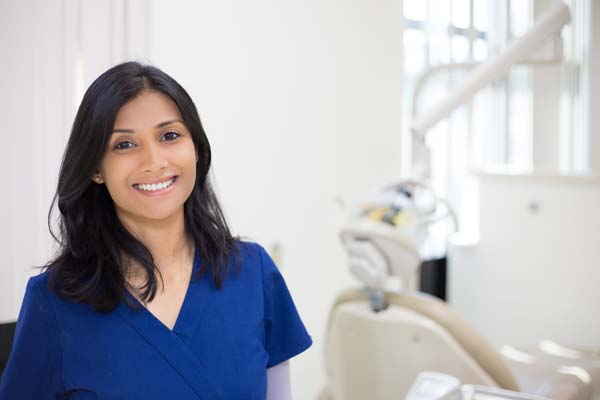 The goal of a general dentist is to keep your teeth healthy for a lifetime. General dentists offer an array of services, from filling cavities to teaching you and your kids the proper tooth brushing technique. Get your teeth healthy by making an appointment today.
General dentistry services
Preventive training
A healthy mouth starts with learning how to maintain oral health at home. General dentists can train both adults who are looking to better their oral hygiene routine and children who are just learning to brush and floss.
Brushing twice per day for two minutes and flossing once daily before bedtime will help keep your teeth and gums healthy between dental cleanings. Being diligent with this routine is your first and best defense against bacteria buildup in the mouth. When brushing and flossing are neglected, bacteria accumulates and produces acid. The acid forms into plaque which then eats away at enamel and causes cavities to form. A general dentist will instruct you not to brush too hard, as this can damage gums and strip the enamel of its protective properties.
Dental cleanings and examinations
There is no substitute for a professional dental cleaning. A general dentist is an expert in catching and cleaning plaque buildup before it can advance to tooth decay. Going in for a dental cleaning and examination twice per year — about every six months — is recommended. Those with deeper grooved teeth are more prone to cavities, and therefore may benefit from getting a dental cleaning and examination more than twice per year. While brushing and flossing is an excellent way to stave off tooth decay, it is still possible to miss some areas. During an examination, you may request your dentist use a disclosing agent. This colored solution sticks to plaque and shows areas that are not brushed as well. A general dentist will also take Xrays to determine any cavities or jawbone issues.
Cavity fillings
Cavities are little holes created by bacteria that have eaten away at the outermost layer of teeth, the enamel. General dentists will remove decay, sterilize the area, and fill it with a composite material. This procedure will protect the tooth from further tooth decay and future bacterial attack.
Root canals
Teeth roots that are damaged due to advanced decay or injury can benefit from a root canal. When the tissue inside of a tooth, called the pulp, becomes infected from advanced decay, this condition is known as pulpitis. At this stage, the pulp must be cleared and hollowed out in order to save the natural tooth. A crown is then placed once the tooth has been reshaped. The purpose of this procedure is to save your natural tooth. A root canal is generally the last treatment available before a tooth needs to be extracted.
Dental implants
Patients missing a tooth will need to get it replaced as soon as possible. Even when a single tooth is missing, everyday activities like speaking and eating become much more difficult. The bite can even begin to lose functionality. A dental implant is a titanium post inserted into the jawbone and topped with a crown. An implant replaces the missing tooth and can last a lifetime when properly maintained.
Bonding
Bonding can be done by a general dentist. This procedure involves the application and shaping of a resin material to restore shape to a single tooth that has been damaged. All these services and more will give you the healthy smile you want for a lifetime. Make an appointment today to get your teeth healthy and feeling great.
Request an appointment here: https://cosmeticdentistsilverspring.com or call Lee Dentistry at (301) 605-1123 for an appointment in our Silver Spring office.
Check out what others are saying about our dental services on Yelp: General Dentist.