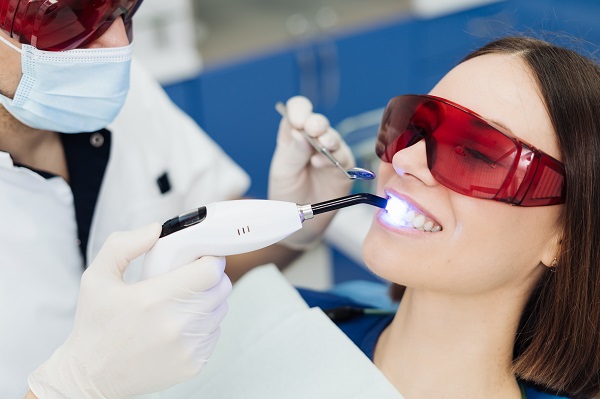 Many people are choosing laser dentistry options to correct gum conditions. Crooked, misshapen, and discolored teeth can ruin a smile. But gum problems can also make you feel self-conscious and want to avoid opening your mouth. Some gum issues can affect your oral health and overall wellness too. Instead of going to the periodontist's office for invasive work, you can find out more about how the use of lasers can accomplish your needs. This approach offers a pain-free solution with the results you want.
Common gum problems and how they occur
Gingivitis is perhaps the most frequent gum condition that a dentist identifies. It is characterized by red, swollen gums that may bleed during brushing. If untreated, it can turn into periodontal disease, which is a more serious condition that can cause tooth loss. Gum recession is another concern that laser dentistry may address. This happens when the gum begins to pull away from the tooth, exposing the root. Oral cancer and gum abscesses are other problems that dentists see.
Most of these conditions are a result of poor oral hygiene. People who do not brush at least twice a day and floss daily are more likely to encounter them. Other habits such as smoking or even brushing ineffectively can lead to these concerns. Other factors may be difficult to control, such as genetics.
Laser dentistry for gum disease
When a patient has gum disease, there will be a buildup of plaque and tartar around the tooth at the gumline. With traditional treatments, the dentist will use a dental tool to scrape away the buildup. When the dentist uses a laser, the process can be faster, be more efficient, and cause less pain. Using the laser, the dentist may also remove excess gum tissue, as it can become inflamed due to periodontal disease.
For cosmetic reasons
Some people can have what may be called a "gummy smile." This may not be due to gum disease or hereditary factors. This can be embarrassing for people and may cause a person not to want to smile. Laser dentistry practices can solve this problem by removing the extra gum tissue. This laser technique can reshape the gums into the desired appearance.
For receding gums
Gum recession can be a serious situation that could eventually require surgery. Before getting to the point where the patient needs a tissue graft, the dentist can use laser dentistry methods. This is done in a similar way to repairing a gummy smile. The dentist can reshape all the patient's gums to make them look uniform.
Have the smile you have always wanted
Gum conditions can be just as serious as tooth decay and other oral health problems. In the past, you might have had to undergo an uncomfortable procedure to stop the disease or problem. Now, instead of using dental tools, a peridontist can use lasers to remove and reshape your gums. This offers a pain-free solution to your undesirable smile. Call your periodontist today to ask about laser dentistry.
Request an appointment here: https://cosmeticdentistsilverspring.com or call Lee Dentistry at (301) 605-1123 for an appointment in our Silver Spring office.
Check out what others are saying about our dental services on Yelp: Laser Dentistry in Silver Spring, MD.
---
Related Posts
April 2, 2018
Laser dentistry is at the forefront of emerging technologies that are making dentistry far more palatable for people who are immensely afraid of visiting the dentist. For a large portion of the population, the idea …